Why Blackout Curtains Are The Wisest Choice For Your Bedroom?
Posted by MIS Urban Space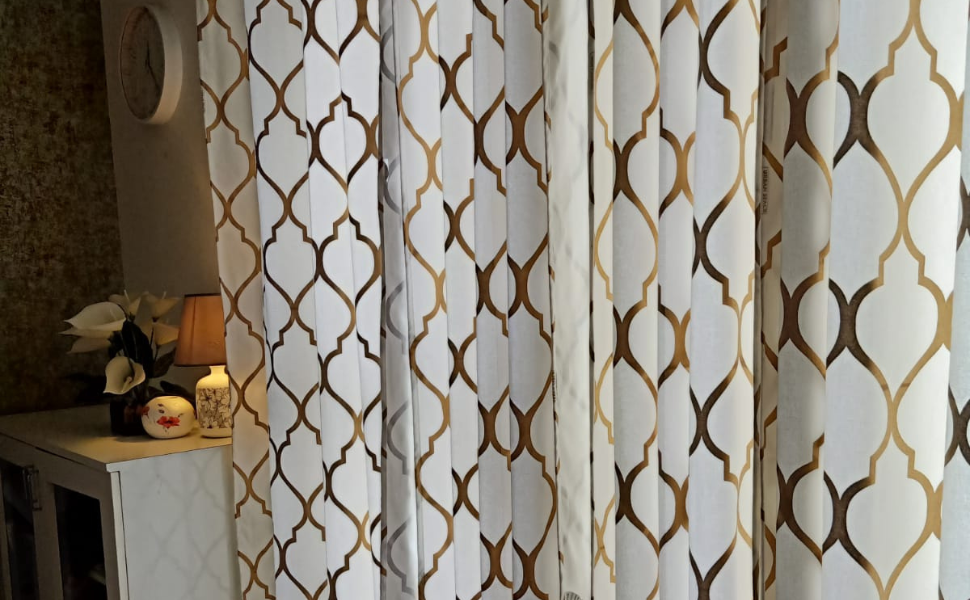 For many of us, our bedrooms are the space we rely on for solace and peace at the end of a hectic day. It ultimately becomes a place for rejuvenation, and such places should not have a lot of disturbances. We can't do much about the people barging in, however, we can take a look at the surroundings and make sure it doesn't become a disturbance.
The easiest way to do this is by getting beautiful long panels of blackout curtains for your bedroom. Ask why? We have listed down a few reasons which should compel you to invest in blackout curtains.
To block bright sunlight and excessive heat:
Sun-blocking and room-darkening curtains are other names for blackout curtains. You can keep the light out of your room with the help of these curtains. It keeps you shielded from harmful UV rays and helps keep excessive heat out. Additionally, while the sweltering sun is blasting its heat outside, you can relax inside in a nice, comfortable, and cool space.
To avoid traffic and other loud noises: 
A hustling city never sleeps they say, but we have to. With traffic always hitting new peaks and the roads always filled with cars, silence lately seems like a foreign concept. With blackout curtains, you can easily filter the unnecessary noise you are subjected to and have a calm and peaceful time. It acts as a noise barrier and is thus perfect for both your home and work-from-home settings.
These are the best choice of curtains if you want privacy in your house but have constantly prying neighbors to look after you. Blackout curtains are made of opaque fabrics that act as the perfect privacy shield for you to enjoy and relax. It also blocks the light from inside so no more reflections give away your private affairs.
To save energy & make a smart investment:
Sun-blocking curtains or blackout curtains deflect the sun's rays, reducing warmth loss. It is a practical approach to controlling your home's insulation and making significant energy bill savings. Moreover, the money you spend on blackout curtains is definitely a wise investment. These curtains provide a wonderful interior makeover and are incredibly durable thanks to their tightly woven fabric. They have a wide variety of designs available so you won't even have to compromise on the aesthetics.
To gain a better sleep experience:
The environment offered by multiple panels blackout curtains to your room by room-darkening and noise-blocking features aids in a better and peaceful sleep cycle These curtains are the most suitable pick for people who have irregular sleeping patterns or suffer from insomnia and overall anyone who loves a peaceful, uninterrupted sleep. 
To protect interior furnishing:
Blackout curtains are not only good for the people residing in a house but also great for the furnishing items that they own. Heavy and excessive sunlight entering your interiors could lead to the dulling of wall paints and fading of furniture, curtain fabrics, and carpets. Keeping these curtains closed throughout the peak sunlight period of the day could help save the cost of repainting and refurnishing.
Strong UV rays and light that enter our home are harmful to us and this is a known fact. Did you know it is also harmful to the carpets and furnishing we have our the room? Heavy and excessive sunlight entering your interiors can cause the paints on your wall to lose their vibrance and the curtain and carpet fabric might also fade faster.
To have hassle-free maintenance:
Blackout curtains are low maintenance and do not require frequent washes. You can just vacuum clean them at a regular time interval. While washing, they must be hand-washed and dried in sun. You must avoid cleaning them in washing machines. In case of ironing, please do so in low heat.
All in all, blackout curtains can be considered a wise investment for your bedroom decor as they do not compromise your aesthetic and additionally provide a bunch of useful and much-needed features.