Styling tips to different curtains
Posted by MIS Urban Space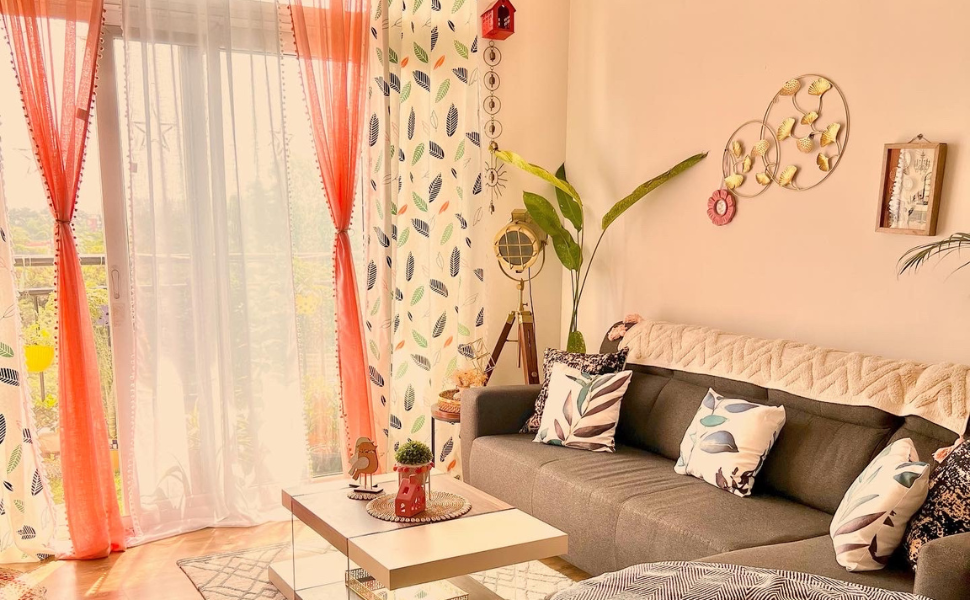 Curtains
Curtains turn a room into a cozy hideout. Essentially used for blocking sunlight, curtains for windows have become a significant and versatile piece of home decor that enhances the look of your interiors. It creates a long-lasting impression, and one should not go wrong about choosing their curtains. So, while selecting curtains, one must be clear about the place and purpose of using them. There are various factors one must keep in mind: Which type of curtain would look good, which kind of fabric to choose from, where am I hanging the blackout curtains, what kind of feel, aesthetic, and mood do I want to create, its utility, and lots more!
How to choose the drapes that compliment your room?
Drapes should be selected depending upon the room you are planning to use them in. Curtains mainly come in two types: Grommet and Tab top. A wide range of both these types of curtains is available on the Urban Space website.
Useful Resources: linen curtains online | ac curtains
Grommet Curtains: These curtains are mostly preferred in all modern houses as they give a contemporary look. They are almost the same as perforated curtains and would be a brilliant choice for your bedroom. One must ensure that the quality of rings and rods accompanying these curtains for balcony/doors/windows is good for long-lasting usage. These curtains are especially suggested for wide and sliding doors/windows.
Tab Top Curtains: These are similar to grommet curtains, but their design makes them easier to set up and maintain.
How to choose curtain material?
Fabric plays the most significant part in choosing curtains and sheers. Various fabric options are available, like polyester, cotton, silk, velvet, and rayon. The polyester, rayon, and cotton curtains are lightweight and easy to wash, reasonable, sturdy, and inexpensive.
The curtains tailored with velvet, silk, or brocade give a luxurious look. The custom-made drapes from these materials would certainly nullify all the atmospheric drafts. However, special care is required for them. If the purpose is to accessorize the window, choosing lacy fabric cotton curtains would be apt and give a dreamy Bollywood feel.
Useful Resources: office curtains | digital curtains
During summer times, let the pastel play its magic, which would add the perfect hue to the room and lighten up the space. But with the temperature soaring high, you would require blackout curtains that keep the heat at bay and maintain a cool ambience in the house. The perfect fit for this is linen curtains that also have high longevity.
How to choose the right place for curtains?
It is essential to choose curtains based on the room and its utility. Different rooms require different kinds of curtains based on their functionality and desired style. Choose the curtain type, color, and design based on these factors. Choose the right place and cozy corner for your curtain to highlight the elegance and ambiance of your room. You can also match your drapes with the decor of the room. You can either choose a place and background that blends with the curtains or make it an attractive contrast.
Distinction between curtains and drapes:
The first step in determining how to choose curtains is deciding what your room requires. Homeowners frequently choose curtains, drapes, blinds, and shades without understanding the distinctions. Doing so, these window treatments can actually interfere with the amount of sunlight your room should get.  Curtains 2 layers are lightweight cloth panels that hang from curtain rods. They're usually utilized for privacy, therefore, they're ideal for living rooms. Drapes, on the other hand, are constructed of heavier materials that block out light, making them suitable for bedrooms.
Making a decision between prints and solids:
To find an answer, we must examine the remainder of the décor. If the rest of the room's soft furnishings are solid colors, printed curtains for balcony can be a popular choice. Likewise, the inverse is true. Prints lend visual weight to any element, so keep that in mind. As a result, one option to use printed curtains 7 feet is to combine them with solid-colored furniture and add printed cushions, area rugs, and other accessories. You might utilize funny designs and geometric patterns in a contemporary style environment, while florals would go well with a modern classic and traditional décor.
Curtains, lined or unlined:
This is where you evaluate the utility of the curtains or drapes you've chosen. A protective liner can make the curtain more opaque, fade slower, and endure longer if it hangs on a window that receives direct sunlight. Also, having two layers – one transparent and one opaque – allows you to customize the amount of seclusion and light you want. The reality is that linings make draperies heavier, so make your decision carefully.
Whatever your style and aesthetic, curtains are a way to enhance them. So, give your interior a new and upgraded decor with stylish drapes and elegant curtains. Explore our varied collection of cotton and linen curtains as well as sheer curtains and more for the summer on our website & make your cozy spaces impressive in this festive season!