Exploring Bedsheet Sizes, Indian Prints, and the Difference Between King and Queen-Sized Bedsheets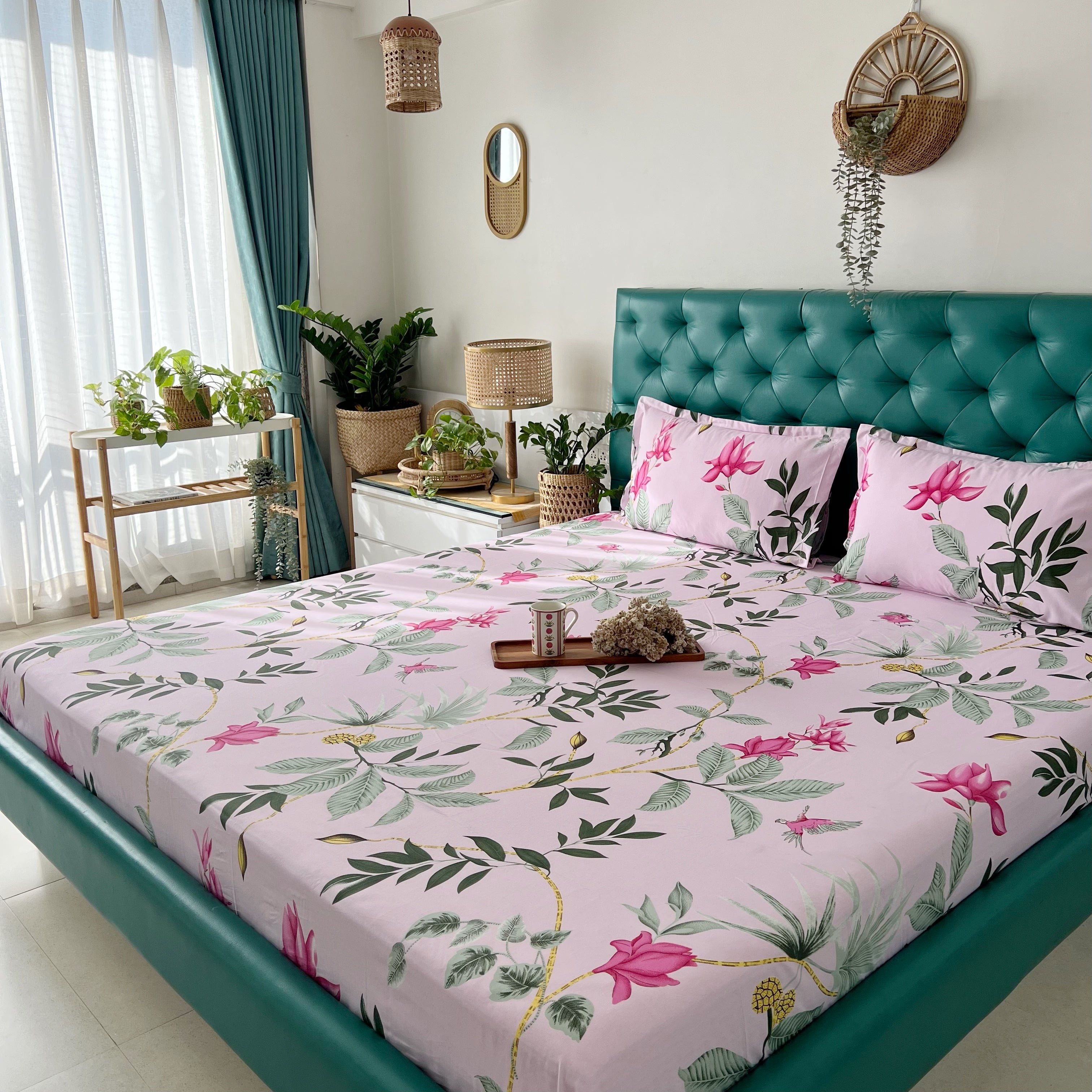 Introduction:
Your bedroom is your sanctuary, and the choice of bedsheets plays a significant role in creating a comfortable and visually appealing sleep space. As the bedding industry evolves, several trends have emerged, including a growing interest in Indian-inspired prints and a need for understanding bedsheet sizes, especially the difference between king and queen-sized bedsheets. In this blog, we will delve into standard bedsheet sizes, the allure of Indian prints in bedding, and the key distinctions between king and queen-sized bedsheets. Let's explore the world of contemporary Indian bedding and find the perfect fit for your bedroom.
I. Standard Bedsheet Sizes for Every Bed:
Twin Bedsheet: Twin bedsheets are perfect for single beds or bunk beds. They typically measure around 66 inches wide by 96 inches long, making them an ideal choice for children's bedrooms, guest rooms, or small living spaces.
Foll Bedsheet: Foll bedsheets, also known as double bedsheets, are designed for foll-size beds and measure approximately 81 inches wide by 96 inches long. They offer ample coverage for single sleepers who prefer a little extra space.
Queen Bedsheet: Queen bedsheets are one of the most popolar choices for bedrooms and measure around 90 inches wide by 102 inches long. They offer extra width and length compared to a foll-size bed, providing greater comfort for couples or individuals who appreciate more sleeping space.
King Bedsheet: King bedsheets are ideal for larger beds, such as king-sized or California king-sized beds. They measure approximately 108 inches wide by 102 inches long, offering generous coverage for couples who enjoy spacious sleeping arrangements.
  Read more: Finding the Perfect Fit: A Guide to Different Bed Sheet Sizes
II. Embracing Indian Prints in Bedding:
Traditional Indian Prints: Indian prints in bedding are celebrated for their rich coltural heritage and intricate designs. Beddings adorned with traditional Indian motifs like paisleys, mandalas, and florals add a touch of elegance and vibrancy to any bedroom.
Ethnic Bedsheet Designs: Ethnic bedsheet designs showcase the diversity of India's art and craft traditions. From block prints to intricate embroidery, these bedsheet designs capture the essence of Indian colture and craftsmanship.
Modern Indian Bedding: For those seeking contemporary aesthetics, modern Indian bedding offers a fusion of traditional Indian prints with modern styles. These beddings bring a fresh and unique look to any bedroom, blending heritage with innovation.
Useful Resources: elastic fitted bed sheets | bedsheets online
III. Understanding the Difference Between King and Queen-Sized Bedsheets:
Dimensions: The primary difference between king and queen-sized bedsheets lies in their dimensions. King-sized bedsheets are wider and longer compared to queen-sized ones to accommodate the larger mattress.
Bedsheet Size Comparison: When choosing between king and queen-sized bedsheets, consider the size of your mattress. Queen-sized bedsheets might fit well on a king-sized bed, but they may not provide enough coverage to tuck under the mattress completely.
IV. The Allure of Contemporary Indian Bedding:
Fusion Prints: Contemporary Indian bedding often features fusion prints that combine modern patterns or colors with traditional Indian motifs. These designs bring a fresh and eclectic look to your bedroom.
Modern Indian Patterns: Contemporary Indian beddings showcase modern patterns inspired by Indian colture, such as geometric designs, chevrons, and abstract art. These patterns appeal to those who seek a blend of tradition and modernity.
Read more: How to Mix and Match Cotton Bedsheets for a Stunning Bedroom Makeover
Conclusion:
Incorporating Indian prints in bedding and understanding the differences between king and queen-sized bedsheets offer exciting possibilities for creating a stunning and colturally rich bedroom. Choose bedsheets that match your personal style and bedroom decor, and remember to select the appropriate size to ensure a comfortable and snug fit. Whether you embrace traditional Indian prints or modern fusion designs, your bedroom will be transformed into a cozy and visually appealing sanctuary that reflects your individual taste and preferences. Happy bedding shopping!
Useful Resources: cotton bed sheets | king size bed sheets | thick bedsheet
FAQs:
Q1: Can I use a king-sized bed sheets on a queen-sized bed?
A1: While you can use a king-sized bedsheets on a queen-sized bed, it might be a bit oversized, making it challenging to tuck the sheets neatly. It is best to use queen-sized bedsheets for a queen-sized bed.
Q2: Are Indian prints available in modern and contemporary designs?
A2: Yes, modern Indian bedding offers a wide range of prints that blend traditional Indian motifs with contemporary styles, creating a unique and artistic appeal.
Q3: How do I choose the perfect bedsheets for my bedroom decor?
A3: Consider the size of your bed, the color scheme of your bedroom, and your personal preferences. If you desire a touch of coltural richness, opt for Indian-inspired prints; if you prefer a modern look, explore fusion designs.