Decoding Thread Count: Finding the Perfect Bedsheet Comfort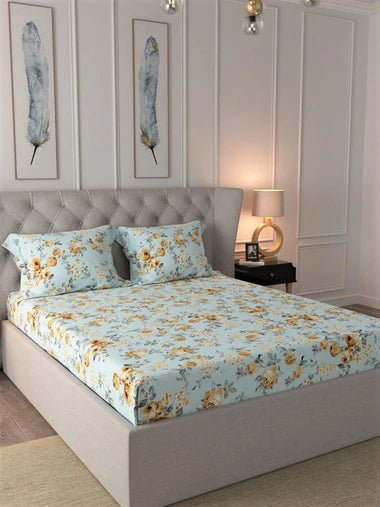 Introduction:
When shopping for bed sheets, one of the key factors to consider is the thread count. Thread count refers to the number of threads woven into each square inch of fabric and is often associated with the quality and comfort of bedsheets. In this blog post, we will explore the concept of thread count, its relationship to comfort, the significance of high thread count bedsheets, and other considerations to keep in mind when selecting the ideal bed sheets. Let's dive in and discover the perfect thread count for your ultimate sleep comfort!
I. Understanding Thread Count: The Basics
Defining Thread Count: Thread count represents the number of horizontal and vertical threads woven into a square inch of fabric. Traditionally, higher thread counts were believed to indicate superior quality and comfort.
The Perception of Luxuriousness: Higher thread count bedsheets are often associated with a luxurious feel due to the perception that more threads equate to softer and smoother sheets. However, it's essential to consider other factors beyond thread count alone.
II. The Relationship Between Thread Count and Comfort
Luxurious Feel and Softness: Bedsheets with a higher thread count may offer a softer and more luxurious feel against the skin. The additional threads can contribute to a smoother texture and a perception of enhanced comfort.
Cozy Sleep Experience: For individuals seeking a cozy and snug sleep experience, a higher thread count may provide a comforting sensation due to the increased density of the fabric. This can contribute to a sense of warmth and security while you sleep.
III. High Thread Count Bedsheets: Unraveling the Perception
The Appeal of Ultra-High Thread Count: Ultra-high thread count bedsheets, typically above 800 or 1000, are often marketed as premium or hotel-grade sheets. The belief is that a higher thread count translates to better quality and a more luxurious experience.
Considerations Beyond Thread Count: While high thread count can be indicative of quality, it's essential to consider other factors such as fabric type, weave, and overall craftsmanship. These elements also play a significant role in the overall feel and durability of the bedsheets.
IV. Other Considerations When Selecting Bedsheets
Fabric Type and Weave: The fabric type, such as cotton, linen, or microfiber, can significantly impact the feel and performance of the bedsheets. Additionally, the weave, such as percale or sateen, contributes to the texture and breathability of the fabric.
Read more: Unveiling the Art of Bedsheet Production: Fabric Weaving, Cotton Cultivation, Textile Dyeing, and Finishing Processes
Personal Preference: Comfort is subjective, and personal preferences vary. Some individuals may prefer a crisp and lightweight feel, while others may enjoy a smoother and more substantial texture. Experimenting with different thread counts and fabric types can help determine your ideal bedding comfort.
Conclusion:
While thread count is an important consideration when choosing bedsheets, it is not the sole determinant of comfort and quality. Higher thread count bedsheets can provide a luxurious feel, but it's crucial to consider other factors such as fabric type, weave, and personal preferences. By understanding the relationship between thread count and comfort and considering additional elements, you can select the perfect bedsheets that suit your individual needs. Remember, a comfortable and restful sleep experience is not solely determined by thread count but by the overall craftsmanship and suitability of the bedsheets to your personal preferences.
FAQs:
Q1: Is a higher thread count always better?
A1: Not necessarily. While a higher thread count can indicate a denser fabric, it's important to consider other factors such as fabric type, weave, and personal preferences when selecting bedsheets.
Q2: What is the ideal thread count for bedsheets?
A2: The ideal thread count varies depending on personal preference. Generally, a thread count ranging from 200 to 800 can provide a balance of comfort and durability.
Q3: Can lower thread count bedsheets be comfortable?
A3: Yes, lower thread count bedsheets can still be comfortable depending on the fabric type, weave, and overall quality. Factors like the fabric's breathability and softness play a significant role in determining comfort.