Enhancing Your Living Room with Beautiful and High-Quality Curtains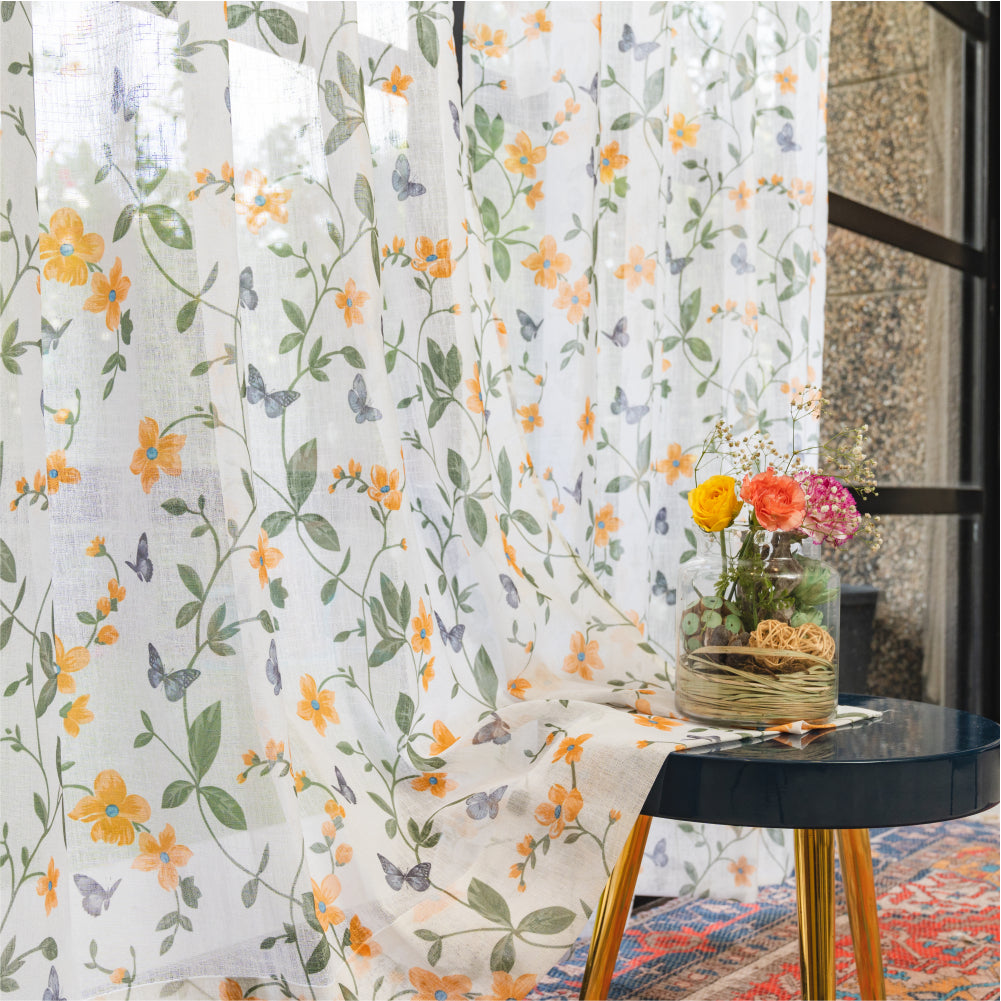 Introduction:
Curtains play a pivotal role in transforming the ambiance of your living room. Whether you're looking for functionality, style, or a combination of both, choosing the right curtains can make a significant difference.
In this blog post, we will explore various curtain styles, types, and qualities that are ideal for the living room. From luxurious fabrics to beautiful designs, we'll guide you through the process of selecting the best curtains to elevate your living space. Let's dive in!
I. Curtain Styles for a Stunning Living Room
Classic Pleated Curtains:

Pleated curtains are timeless and elegant, adding a touch of sophistication to your living room. They come in various pleat styles, including pinch pleats, goblet pleats, and box pleats, allowing you to customize the look based on your preference.
Contemporary Eyelet Curtains:

Eyelet curtains have a modern and streamlined appearance. They feature metal rings at the top, which create soft folds when hung. Eyelet curtains are easy to install and provide a clean and minimalistic aesthetic.
Flowing Sheer Curtains:

Sheer curtains are an excellent choice for living rooms that receive abundant natural light. These lightweight and translucent curtains allow sunlight to filter through while offering a sense of privacy. Sheer curtains create an ethereal and airy atmosphere in your living room.
Read more: Why Sheer Curtains Are the Perfect Choice for Your Living Room?
II. Types of Curtains for Living Room Décor
Blackout Curtains:

If you value privacy, light control, and insulation, blackout curtains are a fantastic option. They block out sunlight, noise, and help regulate room temperature. Additionally, blackout curtains are available in various colors and designs, allowing you to maintain your living room's style while enjoying enhanced functionality.
Patterned Curtains:

Patterned curtains can be a focal point in your living room, adding personality and visual interest. Choose from a wide range of patterns, such as floral, geometric, or abstract designs, that complement your existing décor. When properly coordinated, patterned curtains can elevate the overall aesthetic of your living space.
Textured Curtains:

Textured curtains add depth and dimension to your living room. Opt for curtains made from materials like jacquard, or linen, which offer tactile appeal and visual richness. These curtains create a luxurious and inviting atmosphere.
III. The Beauty of High-Quality Living Room Curtains 
Premium Fabrics:

Investing in high-quality curtain fabrics ensures longevity and an upscale look. Fabrics like silk and linen exude luxury and provide durability. They drape beautifully and give your living room an opulent feel.
Superior Craftsmanship:

Well-crafted curtains showcase meticulous attention to detail. Look for curtains with expertly sewn hems, reinforced stitching, and quality linings. These features contribute to the overall durability and longevity of the curtains.
Customization Options:

High-quality curtains often offer customization options, allowing you to tailor the size, length, and even the lining of the curtains to suit your living room's specific needs. This level of customization ensures a perfect fit and adds a personalized touch to your space.
IV. Achieving the Perfect Look with Wall Curtains 
Wall-to-Wall Curtains:

Wall curtains create a dramatic and luxurious effect in your living room. By extending the curtains from wall to wall, you can visually enlarge the space and add a sense of grandeur. This style is particularly suitable for living rooms with high ceilings.
Layered Curtains:

Layering curtains adds depth and texture to your living room. Pair sheer curtains with heavier drapes or add valances and pelmets for an elegant touch. Layered curtains provide versatility, allowing you to adjust light levels and privacy as desired.
Read more: Creating a Cozy Atmosphere with Layered Curtains
Curtain Accessories:

Enhance the functionality and style of your living room curtains with accessories such as curtain tiebacks, decorative rods, or finials. These details add a finishing touch and elevate the overall aesthetic appeal.
Conclusion: 
Choosing the right curtains for your living room is essential for creating a cozy, stylish, and functional space. Explore different curtain styles, consider the type of curtains that suit your needs, and prioritise high-quality materials and craftsmanship. With the right curtains, you can transform your living room into a stunning haven that reflects your personal taste and enhances your overall living experience.