Why Sheer Curtains Are the Perfect Choice for Your Living Room?
Posted by MIS Urban Space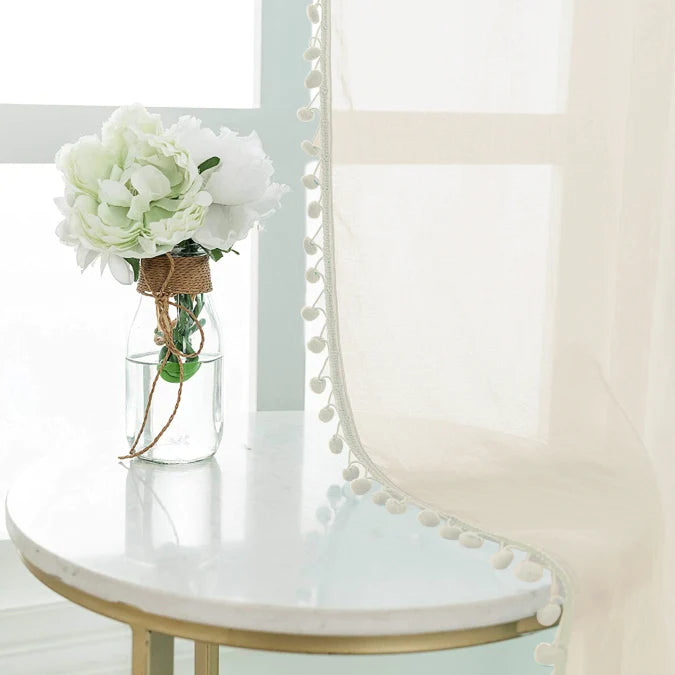 Bright and vibrant interiors have always been classic. Elegant curtains, drapes, and blinds are game-changers in any room. They also add to the mood you want in your space.
However, many think that light control is only possible with room-darkening curtains like blackout or thick cotton curtains. Sheer linen curtains can help you achieve the perfect setting. Sheer curtains can add a touch of elegance and sophistication to any space.
What Are Sheer or Semi-Sheer Curtains?
Sheer curtains or semi-sheer curtains are essentially translucent curtains made out of a thin fabric like linen or polyester material. Sheer curtains are extremely lightweight and very easy to maintain. They are great for creating a bright, soft, outdoorsy feeling while maintaining privacy and protecting against insects and dust. Most sheer curtains are made of polyester, which is a very friendly and cost-effective fabric.
Sheer window curtains have a variety of options available in them. From floral prints and monochromatic prints to tassels and even pom poms. Sheer curtains made from linen organically have a texture in them which makes them an interesting addition to any curtain combination.
The most commonly asked question about sheer curtains is do sheer curtains protect your privacy?
Yes, semi-sheer curtains allow some light to shine through. They also offer privacy to a good level. It is suggested to pair sheer or semi-sheer curtains with drapes or blinds to achieve the best of both worlds in terms of privacy and elegance. Alternatively, adding blackout fabric, drapes, or linings to sheer curtains can help achieve the desired level of privacy, especially at night.
Here Are Some Ways in Which Sheer Linen Curtains Beautify a Room:
Soften the Light: 
Sheer curtains diffuse natural light and soften their intensity, creating a warm and inviting ambiance in the room. They can also add a dreamy, romantic feel to the space.
Adding Texture to the Curtain Combination
: 
Most of the sheer curtains have a linen texture to them. This delicate and light fabric of sheer curtains can add a subtle texture to the room, making it feel cozy and comfortable. 
Enhance your Color Scheme:
Sheer curtains come in a variety of colors, so they can be used to complement the color scheme of the room. They can add a pop of color or blend in with the existing colors to create a cohesive look. One can also pair them with cotton or blackout curtains to enhance the look of the prints and the colors as well. 
Creating Visual Interest:
Sheer curtains can be layered with other window treatments, such as blinds or drapes, to create a more visually interesting look. They can also be used to create a focal point in the room. The lucid prints and textures subtly increase the visual appeal
Create a Transition Between Your Home and the Outside View:
Curtains and sheer curtains are a beautiful way to create a separation between the living room and the balcony. The light and the flowy nature of the fabric create a seamless boundary between the two. It also makes for an interesting backdrop for the balcony decor.
The styling of sheer curtains can be done in multiple ways. Whether you decide to use Sheer Curtains on undercover outdoor patio areas, or as screens or bed canopies, there are wonderful stylistic and practical benefits that come along with them. 
You can find easy DIYs and inspiration to style your own pair of sheer curtains on our Instagram page here: (IG link)
There is no doubt that this simple addition can enhance the look and feel of your home. 
If you are wondering where to look for them, your search has led you here. 
Urban Space offers a wide range of linen-textured sheer curtains with vibrant prints, stripes, and pom-poms, and for the minimalists a selection of plain sheer curtains too.
Pair them with matching pure cotton curtains and blackout curtains to complete the look of your dream space.