Types of curtains: A guide to the different styles of curtains, including drapes, sheers, shades, and blinds, and how to choose the right type for your needs.
Posted by Radhika koolwal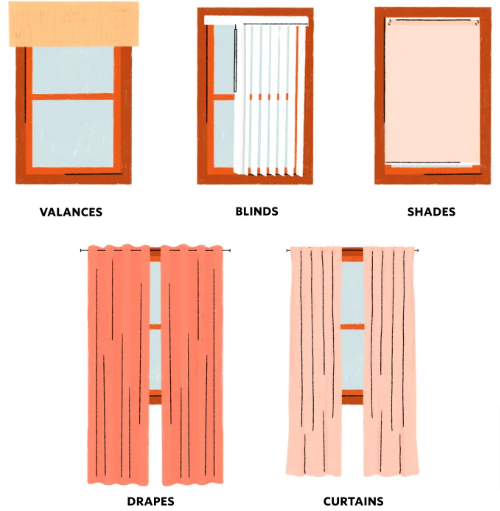 Curtains are an essential element in home décor, adding both functionality and aesthetic appeal to a space. There are various types of curtains available in the market, each with its unique style and features. Here is a guide to the different styles of curtains and how to choose the right type for your needs:
1. Drapes: 
Drapes are the most popular and traditional form of window treatment. They come in a variety of materials, such as cotton, wool, silk, velvet, and other fabrics. Typically they are full-length panels that cover the entire window area. For a more decorative look and extra insulation from cold or heat outside, consider heavy drapes with lining or interlining fabric behind the main panel. 
2. Sheers: 
Sheer curtains feature thin lightweight fabrics that filter light instead of blocking it out altogether. They're best for rooms where you still want to let some sunshine in but at the same time provide privacy from prying eyes outside your house. Common fabric types used for sheer curtains include chiffon and silk. 
3. Shades: 
Shades refer to any window covering with a wide range of techniques used to cover windows while allowing only partly filtered sunlight inside. The most common type is roller shades, which feature a continuous piece of fabric that rolls up or down without any breakage at all and comes in semi-opaque and opaque versions for different levels of light control. You can also find Roman shades which are pleated versions when folded together yet flat when opened like vertical blinds; blackout styles that can block the sun's rays completely on all sides; cellular or honeycomb options for insulated windows; bamboo styles made from natural fiber; sunscreens made from durable nylon mesh; pleated roman shades; balloon drapery styles which produce a voluminous effect over large windows etc.
4. Blinds: 
Blinds are an essential element in every home's interior design since they serve two great functions - providing shade on sunny days while enhancing décor on duller ones! Blinds come in several different sizes including Venetian - mini blind slats joined in one piece –; wood (which can be very expensive); faux wood (which gives you a similar look more affordably); aluminum – containing slats perforated with holes to allow light flow – etc. When considering blinds you must measure your window to ensure you get exactly what size you need for optimal benefits!  
5. Valances & Scarves: 
Valances come with straight bottoms but are hung differently than curtains on a pole rather than a traverse rod — so there might be some limitations if you have one due to not being able to hang rods without any obstructions around it! Scarves are long rectangular pieces draped freely over poles to provide an ultimate layer of flowing style making them ideal for adding impressive visual effects without spending too much money!   
6. Cafe Curtains: 
Café curtains typically don't require hardware as they're suspended on rings attached directly above your lowermost window pane creating a casual atmosphere perfect for the kitchen! Café curtains usually come with sleeved tab tops & fit close against your window sill thus making them the ideal short-term/halfway solution between open/closed as they only cover the lower portion thus still allowing remaining sunlight while also obscuring visibility!  
Read more: Using Curtains as Room Dividers: Tips and Tricks
7. Rod Pocket Curtains: 
Rod pocket curtains use basic hemmed loops stitched across the top width of curtain fabric enabling easy installation simply by sliding pockets atop either standard or decorative rods (hence the name). Its benefit lies in the secure hold provided eliminating chances that café tier varieties may suffer if heavy-weight material is chosen—essentially providing an aesthetically pleasing solution looking relatively high-end even though it's just set single section along the rod!
When choosing the right type of curtains for your needs, consider the following factors:
Functionality: Determine what your primary needs are, such as light control, privacy, or insulation.

Style: Consider the overall look and feel of the room and choose curtains that complement the décor.

Fabric: Choose a fabric that fits your needs, such as heavy fabrics for insulation or lightweight fabrics for natural light.

Size: Measure the window to ensure you choose the right size of curtains that fit correctly.
In summary, choosing the right type of curtains can enhance the functionality and aesthetic appeal of your home. Consider your needs and the factors mentioned above to make an informed decision.
Read more: Common Mistakes While Selecting Curtain Measurements