Complete Your Bedding Ensemble with Essential Bedsheet Accessories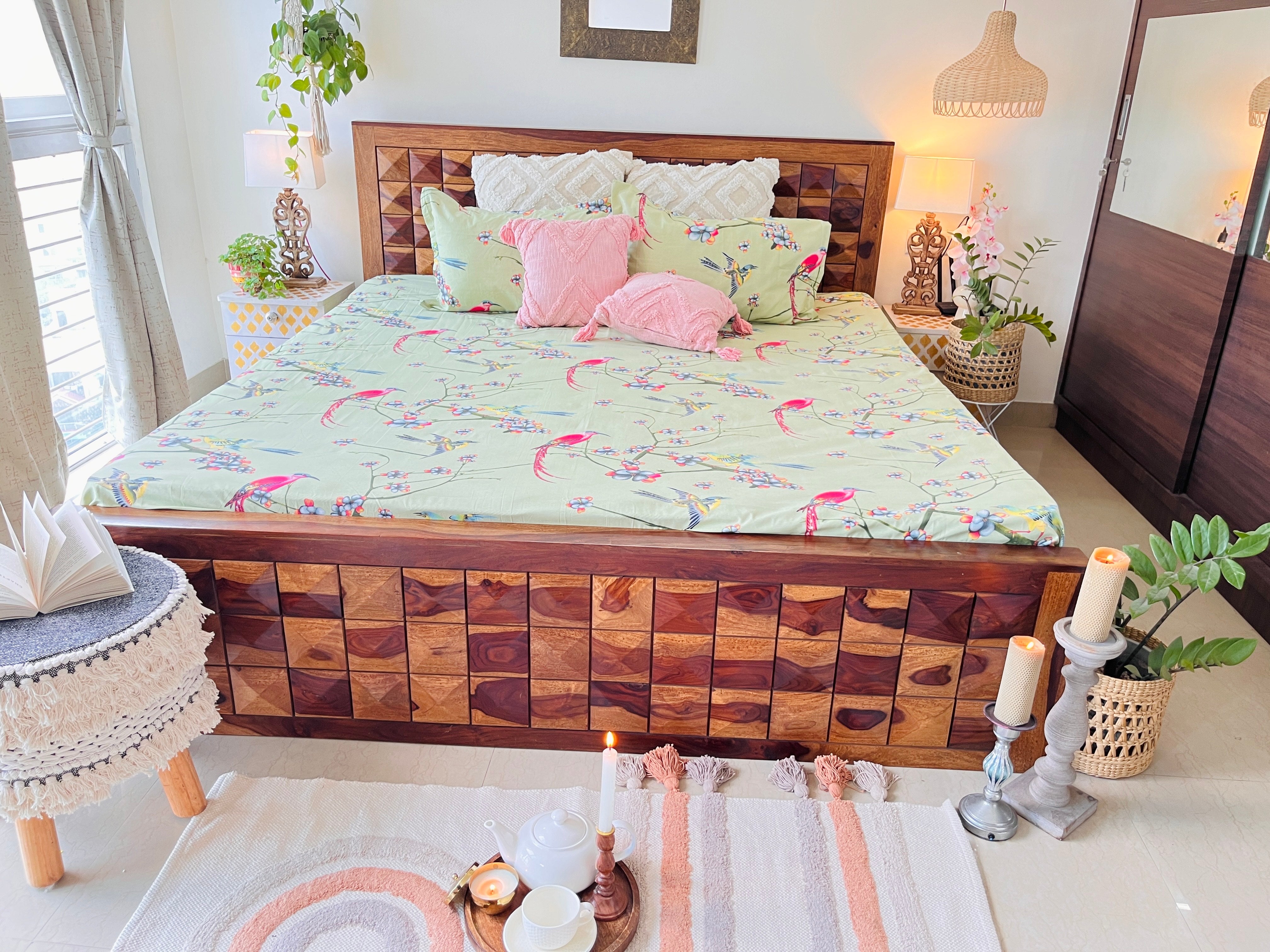 Introduction:
When it comes to creating a cozy and stylish bedroom, bedsheets are just the beginning. To complete your bedding ensemble, it's essential to understand the different bedding accessories that enhance both the comfort and aesthetic appeal of your sleep space. In this blog post, we will explore the role of the flat sheet, fitted sheet, pillowcases, and additional bedding accessories such as shams and bed skirts. Let's dive in and discover how these accessories can elevate your bedding experience.
I. The Versatile Flat Sheet: A Protective and Comfortable Layer
Exploring the Flat Sheet: A flat sheet is a rectangular piece of fabric that is placed directly on top of the mattress. Its primary functions are to protect the mattress from dirt and wear and provide an additional layer of comfort for the sleeper.
Benefits of Using a Flat Sheet: The flat sheet acts as a barrier between the sleeper and the mattress, preventing direct contact with the mattress surface. It also adds an extra layer of warmth during cooler months and allows for easy temperature regulation during warmer seasons.
II. Fitted Sheets: Snug and Secure Bedding Foundation
Understanding Fitted Sheets: Fitted sheets are designed with elasticized corners that ensure a tight and secure fit around the mattress. The elasticized edges prevent the sheet from shifting or coming loose during sleep, providing a smooth and comfortable surface for the sleeper.
Advantages of Fitted Sheets: Fitted sheets offer convenience and ease of use. They save time and effort by staying in place, reducing the need for frequent adjustments. The snug fit also contributes to a neat and tidy appearance, enhancing the overall aesthetic of the bed.
Read more: The Perfect Fit: Exploring Bedsheets with Elastic for a Snug Slumber
III. Pillowcases: The Perfect Complement to Your Bedsheets
Function and Style: Pillowcases are fabric covers that slip over pillows, protecting them and providing a comfortable surface for the sleeper's head. They are essential for maintaining a clean and hygienic sleep environment while adding a decorative touch that complements the design or color scheme of the bedsheets.
Choosing Pillowcases: When selecting pillowcases, consider factors such as fabric type, thread count, and design. Opt for high-quality materials that are soft and breathable, promoting a comfortable and restful sleep.
IV. Additional Bedding Accessories for a Complete Look<
Shams: Shams are decorative pillowcases that match the design and color of the bedsheets. They add an extra layer of visual interest to the bed, creating a cohesive and stylish look. Shams are often used for decorative purposes, placed in front of standard pillowcases or European square pillows.
Bed Skirts: Bed skirts, also known as dust ruffles, are fabric panels that hang around the sides of the bed, covering the mattress foundation or frame. They are primarily used for decorative purposes, providing a finished and polished appearance to the bed ensemble. Bed skirts come in various lengths and designs to suit different bed sizes and styles.
Read more: Finding the Perfect Fit: A Guide to Different Bed Sheet Sizes
Conclusion:
Complete your bedding ensemble with essential bedding accessories that enhance both the comfort and aesthetic appeal of your sleep space. From the versatile flat sheet to the snug and secure fitted sheet, the perfect complement of pillowcases, and the decorative touches of shams and bed skirts, these accessories provide the finishing touches to your bed setup. Choose high-quality materials, explore different patterns and designs, and create a cozy and visually appealing sanctuary for restful nights and peaceful mornings.
FAQs:
Q1: Can I use a fitted sheet without a flat sheet?
A1: Yes, it is possible to use a fitted sheet without a flat sheet. However, the flat sheet offers added protection to the mattress and an extra layer of comfort for the sleeper.
Q2: Can I mix and match pillowcases with different bedsheets?
A2: Absolutely! Mixing and matching pillowcases with different bedsheets can add variety and create an eclectic look. Just ensure that the colors and patterns coordinate well to maintain a cohesive aesthetic.
Q3: How often should I wash my bedding accessories?
A3: It is recommended to wash bedding accessories, including flat sheets, fitted sheets, pillowcases, and shams, every one to two weeks to maintain cleanliness and hygiene.